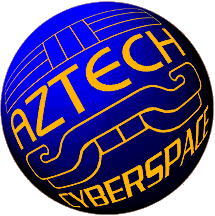 ---
Aztech Cyberspace, Inc.
Aztech Cyberspace, Inc. was the first northern Nevada business to dedicate itself to providing professional Internet, Intranet and Interactive Media design, development, hosting and planning services.

Since 1994, our goal has been to provide organizations with the necessary planning and production resources to ensure that their Internet, Intranet, and Interactive Media efforts are efficient investments.

We are also your resource in the design, production, and implementation of interactive media marketing strategies such as World Wide Web presence's, CD-ROM's, Interactive Kiosks and multimedia presentations.
Experience and Commitment
Aztech's balanced approach to design and implementation is based on over two years experience and cultivated research to organizations as an Interactive Media Agency and Systems Integrator.

Our commitment is to provide:

Innovative technology based marketing and organizational efficiency solutions.
Superior creative content and graphic design.
Traditional marketing media and public relations experience.

In today's highly competitive marketplace, our ability is to provide a wide range of services using a diverse, personable staff of programming, multimedia, graphics, database marketing, and systems experts. We help in assisting our clientele to achieve that much needed edge to develop compelling and efficient Web sites, multimedia, and internal network communications.
Internet and Interactive Media Services
The information highway is here. With over twenty combined years of experience working with the Internet, Aztech Cyberspace provides the fundamental knowledge to introduce to new users the many useful organizational marketing and efficiency solutions that the Internet and Interactive Media offer -- making doing business on a global market simpler and more effective.

We have extensive experience in:

Internet and World Wide Web Presence Design, Production, and Hosting

HTML 3.2 Scripting / Perl Programming and Scripting
Forms and interactive concept pages
Statistical Performance Analysis and Profiling of Web Presence's
Database Marketing, On-Line Promotions
Market Research and Database Analysis

Internet and Intranet Strategy Development for Organizations and Corporations
World Wide Web Server Administration
Windows and Unix System Administration
If any of our services can be of assistance to you, drop us a note at info@aztech-cs.com.

100 N. Arlington Ave.
Suite #106
Reno, Nevada 89501
(702)348.1440


Martin P Gastanaga, President
J.A. MacDonald, Vice President, Technology
David LaPlante, Vice President, Marketing
---


Copyright © 1995 Aztech Cyberspace
Last Updated -> 96-08-08

---